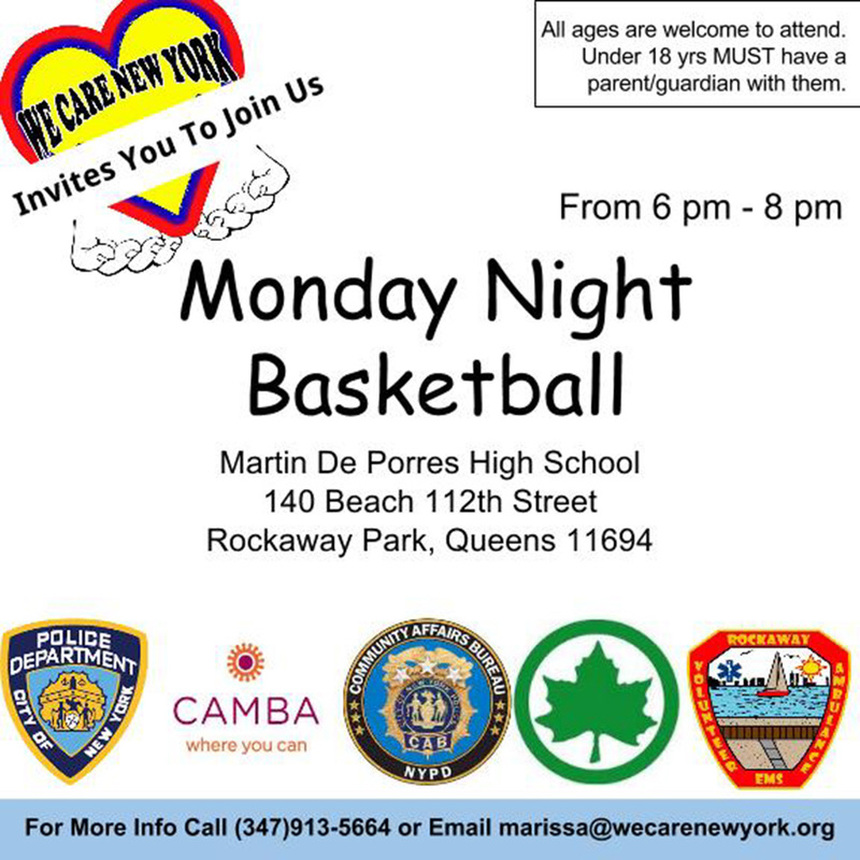 We Care New York has invited our NYPD 100 Precinct (Community Affairs and Neighborhood Coordination Officers) to this program and they have answered. Together we are proud to present Monday Night Basketball.
Every Wednesday at 6 pm we will be hosting our MONDAY NIGHT BASKETBALL PROGRAM. The idea is to bring together teenagers / young adult residents and police in a fun friendly environment. All ages are welcome to attend.
This is a great opportunity to bring together the community. From volunteers , teenagers, young adults, local families and our law enforcement to show we can work together and support one another.
**We have secured an indoor location*** MARTIN DE PORRES HS 140 Beach 112 Street****
We hope to have enough consistent participants to start some sort of team and encourage other neighborhoods to do the same. Until then we will enjoy weekly games among each other. We are happy to say that there has been an interest on social media and we hope that a decent amount of community members continue to come out.
Our very own local Rockaway Volunteer Ambulance EMS has volunteered to be on standby (if needed.)
If this keeps up the momentum we may be looking for sponsors (for team attire, cold drinks and basic equipment.)
Feel free to spread this flyer near and far. We look forward to this program and hope you do too!
Any questions feel free to email
marissa@wecarenewyork.org
or call (347)913-5664.
See you Monday!